Filtering by the Russian Internet Blacklist

In order to comply with Federal Laws FZ-114 and FZ-139, an operator has to block websites that are included in government blacklists for containing illegal information and to restrict access to illegal web resources.
VAS Experts DPI cuts down on the extra costs of developing and maintaining an in-house solution.
The platform is easy to integrate into your infrastructure, supporting flexible scaling and filtering traffic without affecting user experience.
VAS Experts DPI has proven to be an efficient solution that hundreds of operators in the Russian Federation use to filter websites by the Russian Internet Blacklist.
VAS Experts DPI has successfully passed testing by Roskomnadzor between September 13, 2017 and October 13, 2017. The testing results are available on the Roskomnadzor official website or can be requested from ITGLOBAL.COM managers.
VAS Experts DPI can be used to restrict access to Internet resources in compliance with the traffic filtering requirements of Federal Laws FZ-114, FZ-139, FZ-149, FZ-187 and FZ-398, Roskomnadzor blacklist and the Federal List of Extremist Materials of the Ministry of Justice.
Features
Redirect from blocked URLs to the operator's page
Block HTTPS traffic over standard and non-standard ports
Filter mobile traffic (iOS, Android, etc.)
Block HTTPS traffic by the Common Name of certificates
Filter URLs with Cyrillic symbols
SNI (Server Name Indication)
Key Advantages
Convenience
Single DPI platform for all rules
Automated and prioritized rule enforcement
High performance
The list contains 4 billion URLs, taking up a small amount of memory space.
Filter up to 2 million URLs per second per CPU core
Up to 40 Gbit/s per CPU
Less than 30 µs latency for machine-in-the-middle connections
Functionality
Supports HTTP and HTTPS requests, with an option to add additional protocols
Supports HTTP proxy filtration (Opera Turbo/Mini included)
Blocks URLs with or without port numbers
Blocks websites even after the IP address changes
Redirects to a specified website instead of blocking (HTTP only)
Supports VLAN, QinQ, MPLS encapsulation
Supports asymmetric routes, including processing of outbound traffic only
Supports traffic mirroring
99.99% availability
Uninterrupted 24/7 operation and maintenance
Systems that have been installed earlier have an uptime of years.
Bypass mode support
Cost efficiency
Zero costs of maintenance and support for telecom operators
Zero financial and time expenses on the development and maintenance of an in-house solution
At similar performance, setting up proxy equipment is a much more expensive solution.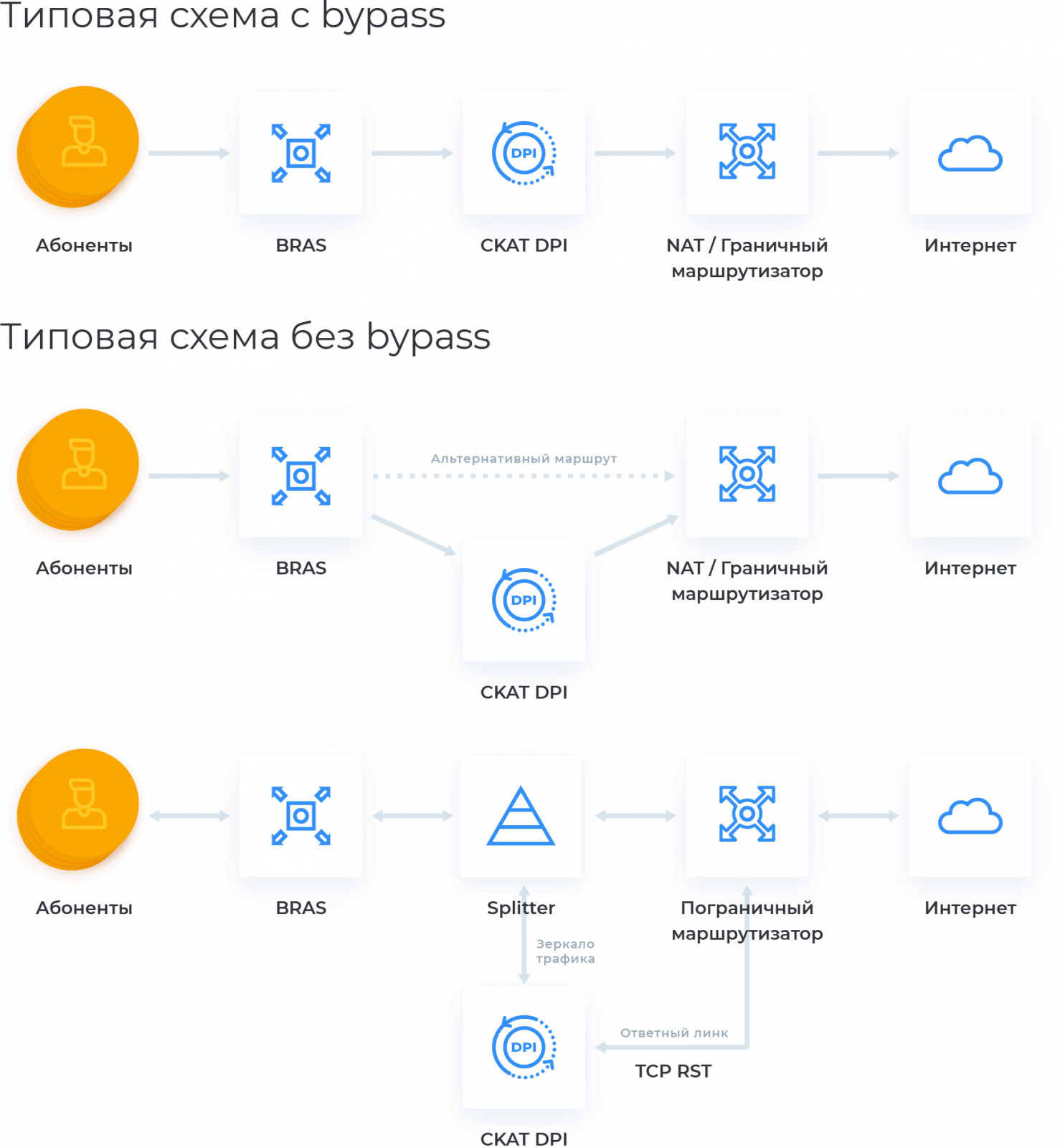 Operating Modes
PBR asymmetric routing
SPAN (port mirroring)
VLAN loopback (dispatch mode)
BGP /32 route advertisement