About VAS Experts DPI
VAS Experts DPI offers real-time traffic control, management and deep inspection functions at protocol and application levels. It supports black and white lists, QoS, and QoE.
Benefits
ITGLOBAL.COM provides VAS Experts DPI—an on-premises hardware-software solution with the following functions:
Network traffic management and control
Traffic inspection and classification
Filtering by the Russian Internet Blacklist (Federal Laws FZ-114, FZ-139, FZ-149, FZ-187, FZ-398)
Heuristic (behavioral) traffic analysis
Audio and video content caching
Traffic processing speed of up to 3.84 Tbit/s
Different operation modes: machine-in-the-middle (bypass supported), traffic mirroring, asymmetrical
Traffic analysis at OSI L1–L7 with over 6,000 protocols supported
Available Options
Filtering by the Russian Internet Blacklist
In order to comply with Federal Laws FZ-114 and FZ-139, an operator has to block websites that are included in government blacklists for containing illegal information and to limit user access to illegal web resources.

VAS Experts DPI cuts down on the extra costs of developing and maintaining an in-house solution. The platform is easy to integrate into your infrastructure, supports flexible scaling and filters traffic without affecting user experience.
VAS Experts DPI has proven to be an efficient solution that hundreds of operators in the Russian Federation use to filter websites by the Russian Internet Blacklist. VAS Experts DPI has successfully passed testing by Roskomnadzor between September 13, 2017 and October 13, 2017. The testing results are available on Roskomnadzor official website or can be requested from ITGLOBAL.COM managers.
Quality of Service (QoS)
The Quality of Service (QoS) module enables bandwidth management based on application layer protocols, data flows and bandwidth usage. It saves up to 25% of the bandwidth capacity by prioritizing traffic, which improves the operator's quality of service in general.

Quality of Experience (QoE)
Quality of Experience (QoE) is a DPI module that gathers statistics and evaluates QoE. The data that it collects are compared with the preset metrics to evaluate the quality of telecom services and Internet connection for a single user. Based on this information, the module initiates steps required to improve the quality of service.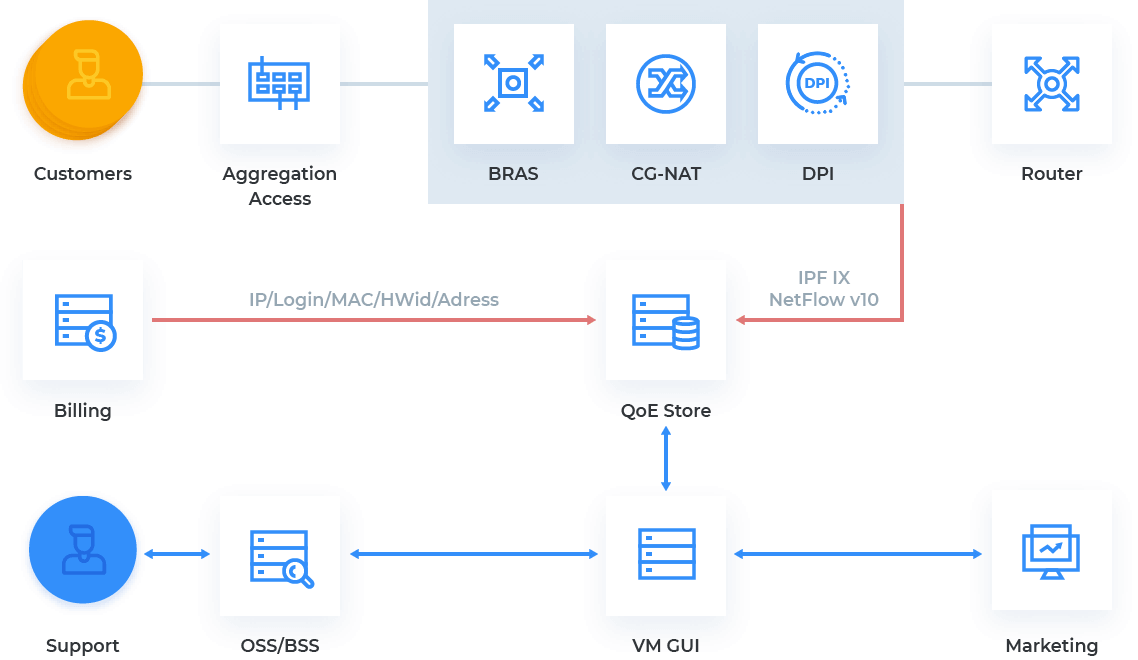 Access Control Lists (ACL)
Access Control List (ACL) is an option in VAS Experts DPI designed to create intelligent access control lists, unlike the standard ACLs. Such ACLs control and manage traffic at higher layers of the OSI model by limiting or allowing access to services, applications and resources. You have control over both—single users and user groups.
CG-NAT
The CG-NAT option enables network address and port translation and provision of a single public IPv4 address to several users. CG-NAT is introduced to deal with IPv4 address exhaustion and simplify transition to IPv6.
The 'classic' NAT with port translation on Linux or FreeBSD is a port-restricted NAT that allows inbound connections only on a specific port. As a result, for example, two gaming consoles behind such a NAT gateway won't be able to communicate with each other, because the port number will be changed. Similarly, it prevents the connection of torrent trackers and other peer-to-peer protocols. CG-NAT addresses these issues by allowing inbound connections on any port.
Example of VAS Experts DPI being used as a NAT gateway with redundancy:

Firewall and Anti-DDoS
VAS Experts DPI comes with a firewall that protects users from being hacked on open ports and blocks any illegal subscriber activity. The firewall protects your network from DoS and malware attacks, improves the quality of service, ensures reliable and secure operations. You can use the firewall together with the QoE module to reveal the perpetrator and the victim and quickly notify users about any suspicious activity.

Marketing and Redirecting
With Marketing and Redirecting, operators receive a tool to notify subscribers about new offers or future network maintenance. When an operator activates the service, instead of being redirected to the home page, the subscriber is redirected to the operator's information page, which contains all the necessary data.

Traffic Lab
Do you want to test VAS Experts DPI in real-time and see how it processes collector analytical data, monitors the network, enhances subscriber loyalty by leveraging metrics, and increases revenue per subscriber using our products? Try Traffic Lab—free for any telecom operator to perform various evaluations, such as:
NetFlow analysis is used to report on network traffic at the session level and generate detailed network statistics. Reports can be exported and visualized. NetFlow analysis also yields statistics on subscriber ping, including peak and medial values.
Functionality
Please fill out the form to perform NetFlow analysis
Identify subscribers with high ping and lower connection quality in real time
Troubleshoot CPE, wireless routers, access and aggregation switches
Export statistics to the specialized monitoring system and dashboard of the technical support team
Export Full NetFlow statistics on transport and application layer protocols, with traffic presented by flow and AS
Prioritize (QoS) based on bandwidth allocation
Search for the best Internet exchange points and uplinks
Detect malware and DDoS attacks, develop your own security system
Gather statistics on repeat requests
Collect session retransmit statistics
Troubleshoot Wi-Fi routers and physical channels
Sell equipment with the best coverage and functionality parameters
Clickstream analysis is used to collect statistics on the number of generated sessions and subscriber devices. It is used to identify the most visited resources, including at endpoint client devices.
Functionality
Please fill out the form to perform Clickstream analysis
Prevent negative feedback and subscriber churn
Determine household types based on filters
Prevent Internet reselling
Automate feedback collection after on-site repair works
Notify about network failures and reduce the load on the support team
Inform subscribers about new services, offers and discounts
Please fill out the form to test VAS Experts DPI
We invite you to join the free testing of VAS Experts DPI. Our testing lab has enough equipment power to support testing for any purpose in close-to-real-life conditions. Our engineers ensure full support of your testing effort and work together with you on releasing your project to production.
Network stress test at OSI L2–L7 with traffic generation of up to 100 Gbit/s.
Functionality
Please fill out the form to perform stress testing
Emulate traffic flow and as many simultaneous sessions as you need
Use a wide range of parameters and protocols for traffic generation management
Emulate failures and recovery
Emulate traffic packet allocation within a time interval
Replay pre-recorded traffic with modified IP addresses or sending/receiving ports