The way vStack helped to make Serverspace the TOP-1 in terms of performance
A cloud provider Serverspace (www.serverspace.io) was looking for a virtualization solution in addition to the existing VMware-based cloud. The main idea was to find the way to provide high performance virtualized resources without huge investment in ultra-expensive server hardware. As well software license price was one of critical parameters for service cost optimization. Below there is a project story and results that were achieved with vStack hyperconverged platform implementation.
About the company
Serverspace is an international public cloud service provider. The company has been working on the market of cloud computing since 2008 and has presence in 7 countries around the world. By the end of 2021, the total number of registered clients of Serverspace public cloud was more than 120 thousand. A core service of Serverspace hyperscaler is cloud infrastructure based on vStack and VMware virtualization environments.
Classic approach vs. Hyperconvergence
Serverspace's IT infrastructure was originally built based on VMware solution. This platform is well known to the users of cloud services. It is very stable and reliable solution for cloud infrastructure that is proven by years of successful presence on the market.
However, the maintenance of VMware infrastructure means not only proven technology, reliable efficiency and high quality, but also relatively high costs for its owners.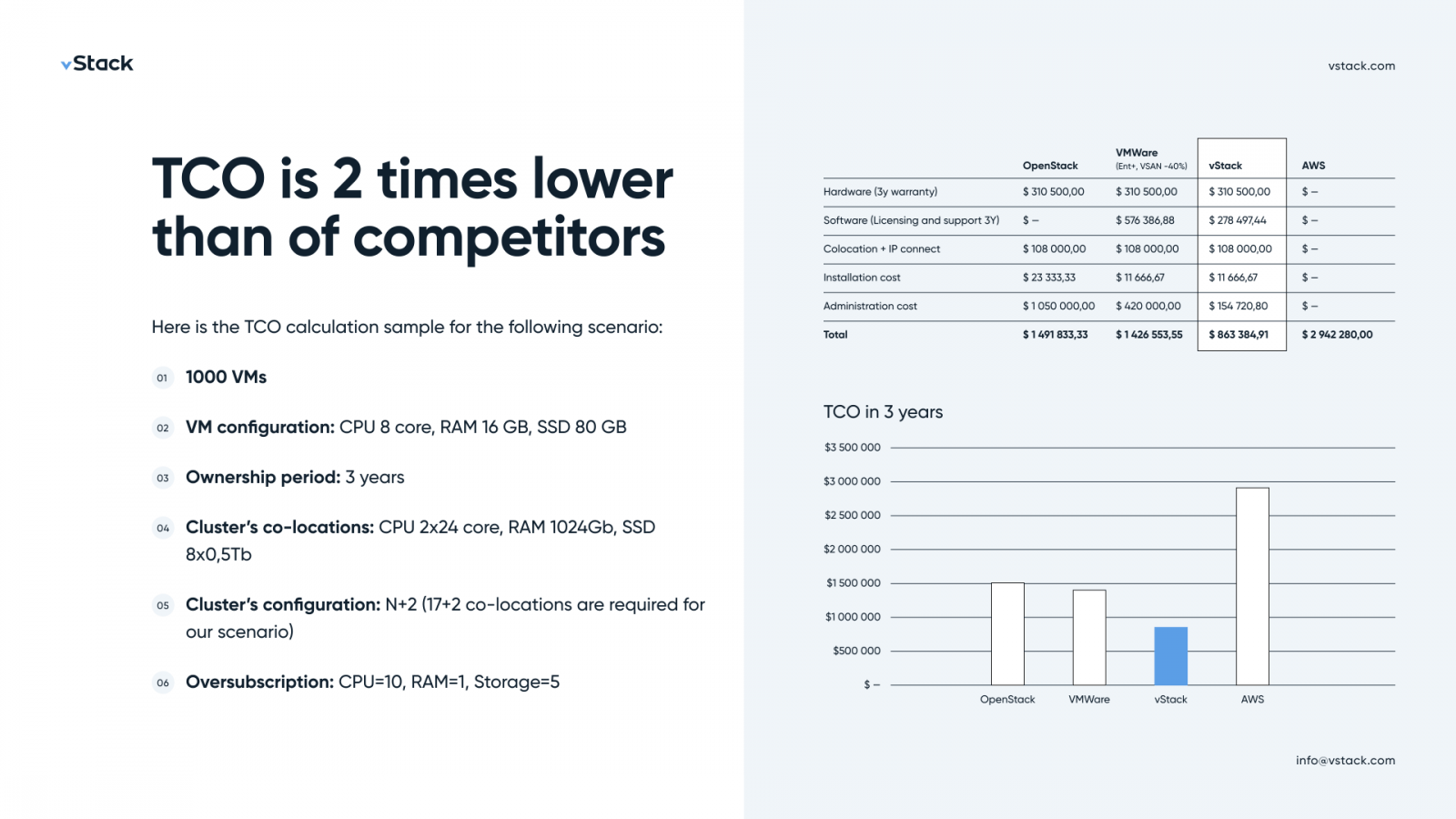 As well, when using VMware platform you should be prepared for the relatively high cost of the equipment starter package and its support. The classical approach to infrastructure design assumes that the functions of computing, data storage and networking are assigned to separate servers with dedicated roles or specialized equipment. In this case, usually the hardware of different vendors is used. For example, it can be Cisco for network switch, NetApp for storage system, and several manufacturers at once for computing resources. Accordingly, a numerous IT staff is required to support the entire site, that significantly increases the cost of personnel.
In turn, hyperconverged solutions is the opposite, unlike the "classic approach", they combine computing and network resources, storage resources and virtualization tools into one platform with a single point of management. This significantly simplifies administration and scaling of the infrastructure, as well as reduces IT costs significantly.
Why vStack
"At a certain point, we discovered that we spend significant resources for infrastructure maintenance when providing virtual machines based on VMware, which in our case is a converged solution. For our type of workload, a move to hyper-convergence would be optimal, but implementing the appropriate VMware's solution would affect the end prices for our customers. We started looking for an alternative. The option of KVM/OpenStack based solution was tempting because it did not require any license fees. However, after the calculations, it turned out that the savings on licenses are offset by the increase of the cost of maintaining the infrastructure tier, since OpenStack is a kind of a construction set that must be constantly "refined" and maintained independently.
The vStack virtualization platform was the ideal choice for us: it allows us to save on the hardware being used and simplify infrastructure management through a hyper-converged approach. That said, we didn't have to give up the benefits of the proprietary approach. Moreover, we became an anchor client – now the vendor adjusts its development plan in accordance with our roadmap and we promptly get the functionality requested by Serverspace clients when the platform is updated" – said Ignat Tolchanov, Head of ServerSpace.
How the solution works
vStack is a hyper-converged virtualization platform developed by ITGLOBAL.COM LABS. The solution is a single unified infrastructure of software-defined modules of data center based on open source technologies. Its architecture includes the following components:
vStack OS and a thin hypervisor;
vStack Storage;
vStack Network;
vStack Management.
The key idea of vStack is creating of a fully managed virtual data center of the enterprise level based on standard server hardware. This is a more affordable, but not necessary less powerful alternative to the leading virtualization platforms, which in some cases replaces corporate solutions for storage and virtualization.
Platform advantages:
Commodity hardware

Customers now may choose the manufacturer they prefer, and its hardware equipment and components will be used to build the infrastructure. This may increase savings on hardware, for example by using consumer-grade components, and not depend on the particular vendor (no vendor lock-in).
Staff efficiency

There is no need to hire many different specialists to administer separate components like storage systems, servers, virtualization, etc. Infrastructure management is implemented from a single interface, and one system administrator is quite enough for this task.
Software costs reduction and budget planning simplification

Only the resources involved (vGHz, vRAM, vXXD) are considered for licensing, and idle equipment does not need to be licensed. There is also the possibility of overrun – you can temporarily exceed the amount of computing resources used in excess of those acquired in the license.
Online scaling and recovery

Since all components are software-defined, you can quickly expand your site's resources. And if any of elements fails, there will be no problems with its replacement. The platform does not require the use of specific vendor equipment and you can choose components available on the market.
Platform implementation
Since 2019, vStack has been used by the international cloud provider Serverspace as one of the two main virtualization platforms along with VMware. The vStack platform is deployed on the provider's servers in Amsterdam (Netherlands), New Jersey (USA), Moscow (Russia) and Almaty (Kazakhstan).
In those days of implementation, the platform was a new solution for the market, but even then vStack provided a high level of availability of virtual machines and was not inferior in performance comparing to VMware solution. Now Serverspace uses vStack in a managed format, which allows the company not to waste time and other resources on supporting the platform and concentrate on development of its services.
Results
Today Serverspace is the General Ambassador of vStack, the world's first hyper-converged platform that brings a new level of cloud infrastructure management.
One of the company's key and most popular products are virtual servers based on the vStack cloud. The customer monthly price of the minimum configuration of a Linux server based on vStack (1 CPU, 1 RAM, and 25 GB SSD) deployed in a Equinix data center in Amsterdam is 4.1 euros. Today it is one of the best deals on the cloud infrastructure rental market.
The platform's capabilities have expanded significantly since its introduction. There is support for unlimited network heterogeneity, an autonomous mechanism for supporting a high degree of economic efficiency in relation to vCPU resources, and much more.
What was achieved by Serverspace with vStack:
Time to create a ready-to-run VM is no more than 40 seconds (including VMs with Windows Server OS).
Oversubscription rate (CPU = 8, Storage = 7) without any impact on customers.
The cost of a vStack based virtual machine is half the cost of a similar volume of resources based on VMware.
The introduction of vStack allowed Serverspace to become the TOP-1 in VM performance on the market (confirmed by Geekbench testing).
The vStack platform is actively developing, and Serverspace, as a provider, takes an active part in this. In the future new capabilities of the solution will allow Serverspace to launch cloud platforms at different locations in a short time, as well as actively develop its partner network.
vStack combines low cost and high performance. For this reason, we recommend using vStack for development companies to create Test and Dev environments. The test environment can be deployed on low-cost server hardware. At the same time, in performance it will not be inferior to the Prod environment on Hi-End equipment. This resolves a typical conflict of interest between developers who want Test to be similar to Prod, and budget owners, who tries to save money on the test environment.