16.08.2019
#Deep Packet Inspection
Stingray Service Gateway (SG) for StarNet (Moldova)
ITGLOBAL.COM Integration supplied and configured a DPI system by VAS Experts for StarNet, Moldova's largest commercial telecom operator, optimizing the existing network with more than 130,000 active users.
Key Points
Business: telecom operator
Objective: replace the existing BRAS, introduce CG-NAT with IPv6 support.
Solution: the existing Ericsson SmartEdge 1200 devices were replaced with a Stingray Service Gateway (SG) 40 cluster installed on Huawei hardware.
Results: the network was modernized, with added IPv6 and IPoE support, CG-NAT, RADIUS AAA; low performance and fault-tolerance were addressed.
StarNet is one of the largest telecom operators in Moldova, working on the market since 2003. Its subscriber base is over 130,000 active users. StarNet is the first company in Moldova to provide fiber-optic Internet connection.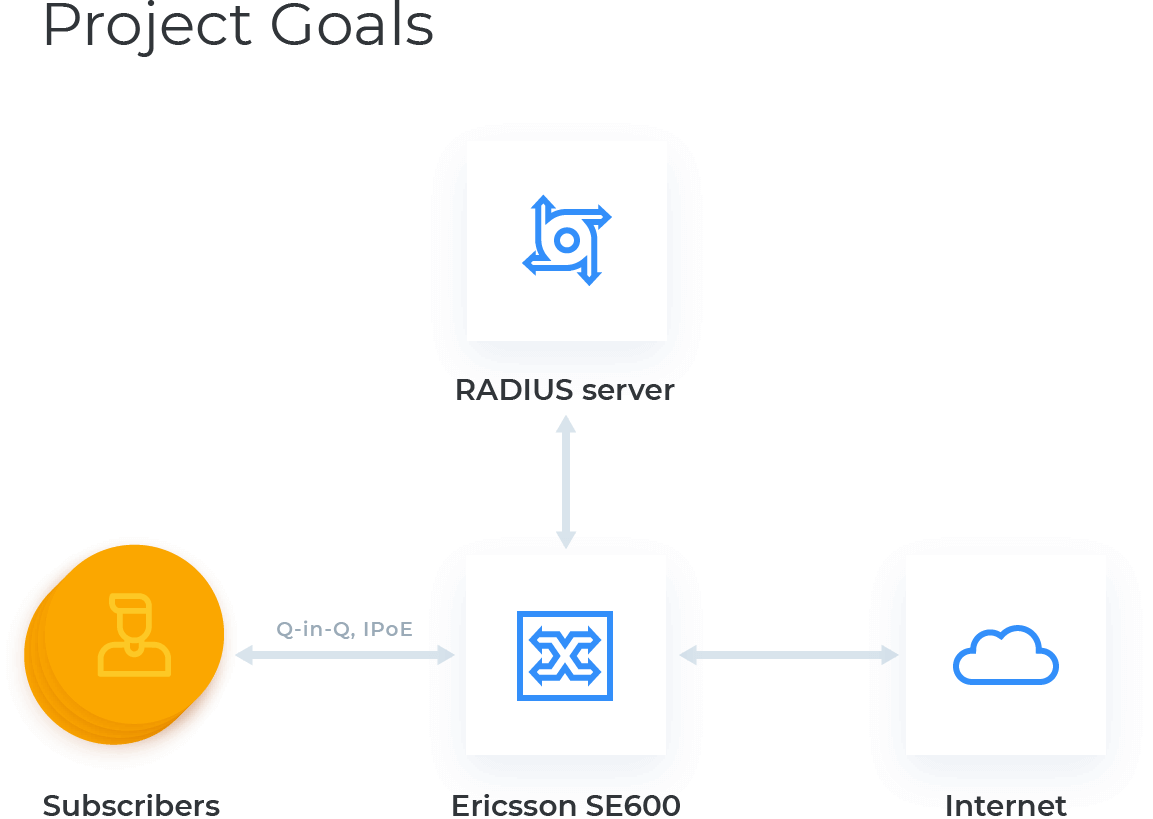 StarNet subscribers can access the web via GPON, FTTB, and Wi-Fi. Before modernization, the network traffic was managed with several Ericsson SE1200 BRAS. The devices could not keep up with the traffic load and malfunctioned. The need to gradually transition to IPv6 made it impossible to continue using SE1200 because it supports IPv6 for PPPoE sessions only, and using PPPoE for over 130,000 subscribers was out of the question.
The need for a new system was also triggered by extended downtime. It was evident that a modern traffic management solution with BRAS L3, CG-NAT and IPv6 Dual Stack support was required.
Solution
To solve the issue, StarNet was looking at several options: CISCO ASR and VAS Experts DPI. The main criteria for selection, apart from fulfilling the objective, were the cost, reliability, modernization potential, maintenance, redundancy, IPv4/IPv6 Dual Stack, and shaping support. Having analyzed the requirements as well as the disadvantages of CISCO ASR, the decision was made in favor of Stingray Service Gateway (SG). The DPI system addresses all of StarNet's concerns and is considerably less expensive than similar products.
"We chose a software-based solution, which is more efficient in terms of upgrades, scaling and redundancy. Almost every vendor (CISCO, Juniper, Nokia, Huawei, HP, etc.) offers its own software-based BRAS products. However, we decided in favor of Stingray Service Gateway (Russia), which proved optimal in terms of cost and functionality. ITGLOBAL.COM helped us select, license, and install the system," says Andrian Vishnevsky, StarNet Lead System Administrator.
Stingray Service Gateway (SG) is a powerful platform for telecom operators which offers DPI, BRAS, NAT, Anto-DDoS, Firewall, and many other functions out of the box. It also includes a QoE module which helps improve user satisfaction with the service.
VAS Experts has developed its own traffic classifier which is at the core of the system, instead of opting for licensed products from other vendors.
Stingray Service Gateway (SG) is a software-based solution that works on x86 servers from any vendor, with peak bandwidth of 100 Gbit/s per 1 RU.
Results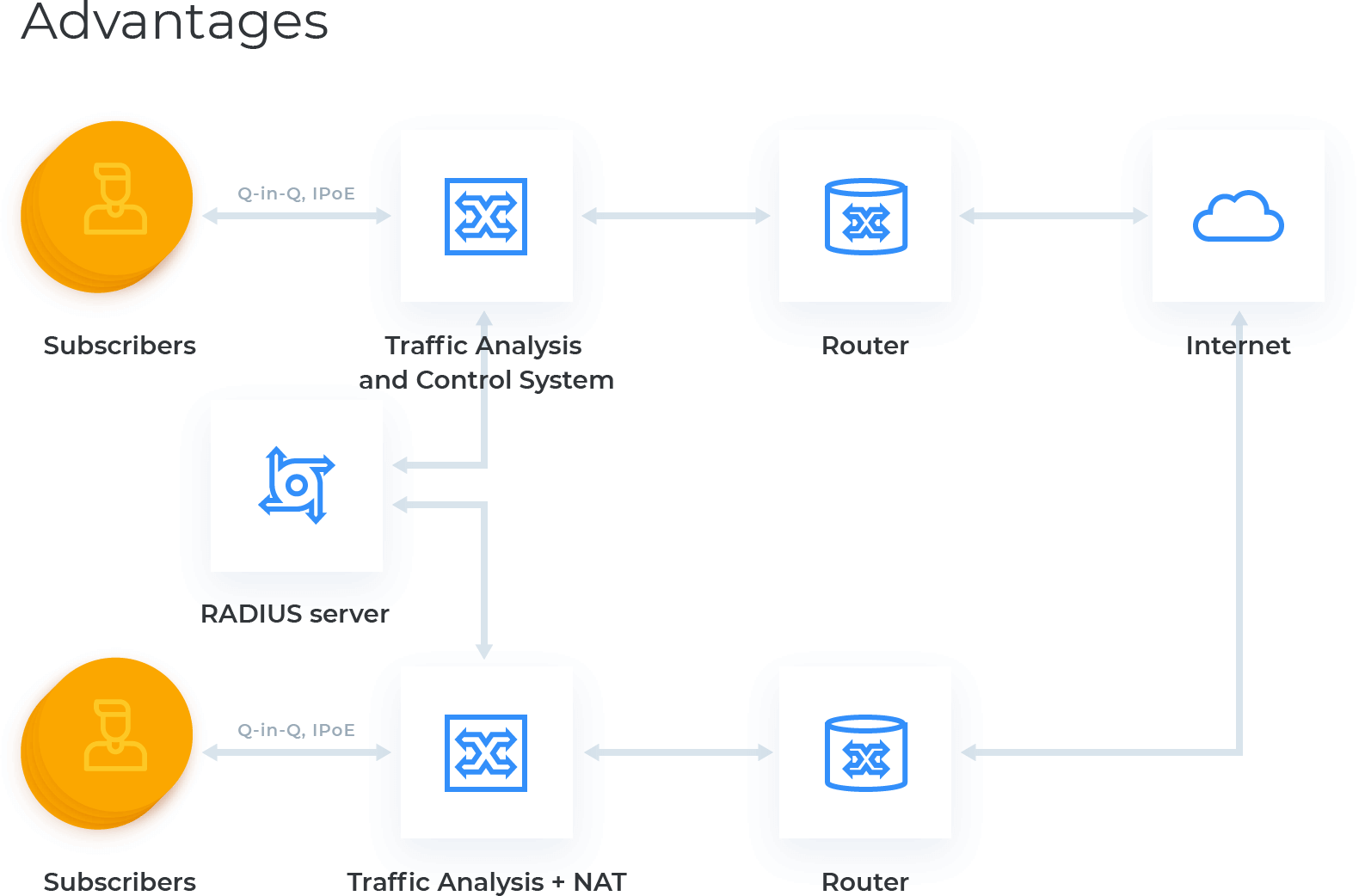 Within three month, the StarNet network was modernized, with all Ericsson SE1200 hardware replaced with Stingray Service Gateway (SG). The number of RADIUS procedures was reduced, making authentication, authorization, and accounting quicker and more stable. Full support of IPv6 and IPv4 (Dual Stack) was introduced with IPoE, which lifted the cap on the growth of the subscriber base.
The DPI cluster ensures redundancy and fault-tolerance. Installation of the DPI system on the existing hardware allowed to reduce capital expenditure and protect investment, keeping in mind that traffic will increase in the future. The simple licensing model also facilitates the telecom operator's growth.
ITGLOBAL.COM engineers provided comprehensive support during the integration process, and VAS Experts developers fine-tuned the software and added new features quickly. The company then plans to configure statistics gathering and analysis (QoE) to improve subscriber satisfaction with the service. "Unlike greenfield projects when equipment is supplied and configured before the launch, StarNet had to perform hot modernization without disrupting the service. So the project was meticulously planned and delivered in as little time as possible.
Stingray Service Gateway (SG) proved to be a reliable solution, and within several months after the launch the customer plans to perform modernization and activation of new features," says Alexander Chekmenev, Head of DPI.
About Project
Equipment: Huawei servers provided by the customer, Stingray Service Gateway (SG) 40. Integrator: ITGLOBAL.COM is an international group of companies, a worldwide provider of IT services, products, and solutions, with over 10 years of experience in Managed IT in its own and third-party data centers and on premises. The company has offices in Moscow, St. Petersburg, Minsk, Nur-Sultan, Istanbul, Claymont and Amsterdam, and plans to expand into more than ten new markets, including the United Kingdom, China, and Indonesia. Developer: VAS Experts is Russia's leading DPI developer, specializing in the development and implementation of a breakthrough traffic control and analysis system. In the CIS only, more than 800 telecom operators prefer the software from VAS Experts. The total volume of network traffic processed by its products is 15 Tbit/s. Its solutions are used in high-load telecom systems both in Russia and abroad.