vStack
Hyper-converged platform for creation of Enterprise-level virtual Data Center
About Platform
vStack is a hyper-converged platform developed by ITGLOBAL.COM LAB. It looks very much like a united infrastructure of software-defined modules of the Data Center let along using the best knowledge of open-source technologies:
ОС FreeBSD
ZFS Filesystem
bhyve Hypervisor
So the punch line of vStack is creating a fully manageable Enterprise-level virtual Data Center based on the standard commodity hardware. And the thing is that in the number of tasks the platform is able to substitute VMware, Cisco, Nutanix and other corporate solutions to provide storage and virtualization. Just easily available and not less productive alternative
Technology
The legendary OS needs to be known better. Just take a look at the A-grade companies, who built their products using FreeBSD: Apple™®, NetApp™®, Dell EMC™®, iXsystems™®, Netflix™® etc.
Main features:
high performance of the system as a whole, in particular the network stack
no redundancy in the code
democratic community
roadmap that leads to software revolution
The ZFS file system is splendidly distinguished by its support for large amounts of data and its high level of protection against errors and corruption. And the fact is, ZFS has been an important part of FreeBSD for more than12 years!
Main features:
the only file system that combines the POSIX layer and transactional integrity according to the ACID model
combined volume and file system management
advanced mechanisms of integrity control, correction and restoration
two-level caching mechanism (ARC)
Main features:
lightweight at the level of OS network core
no useless and resource consuming code
a super fast Software Defined Network
non-standart algorithm for using virtual memory and a special approach to CPU virtualization
significally higher bhyve's performance than the KVM's which is appreciated by the OmniOS community
bhyve is the hypervisor that improves and changes with the time
vStack HCI Architecture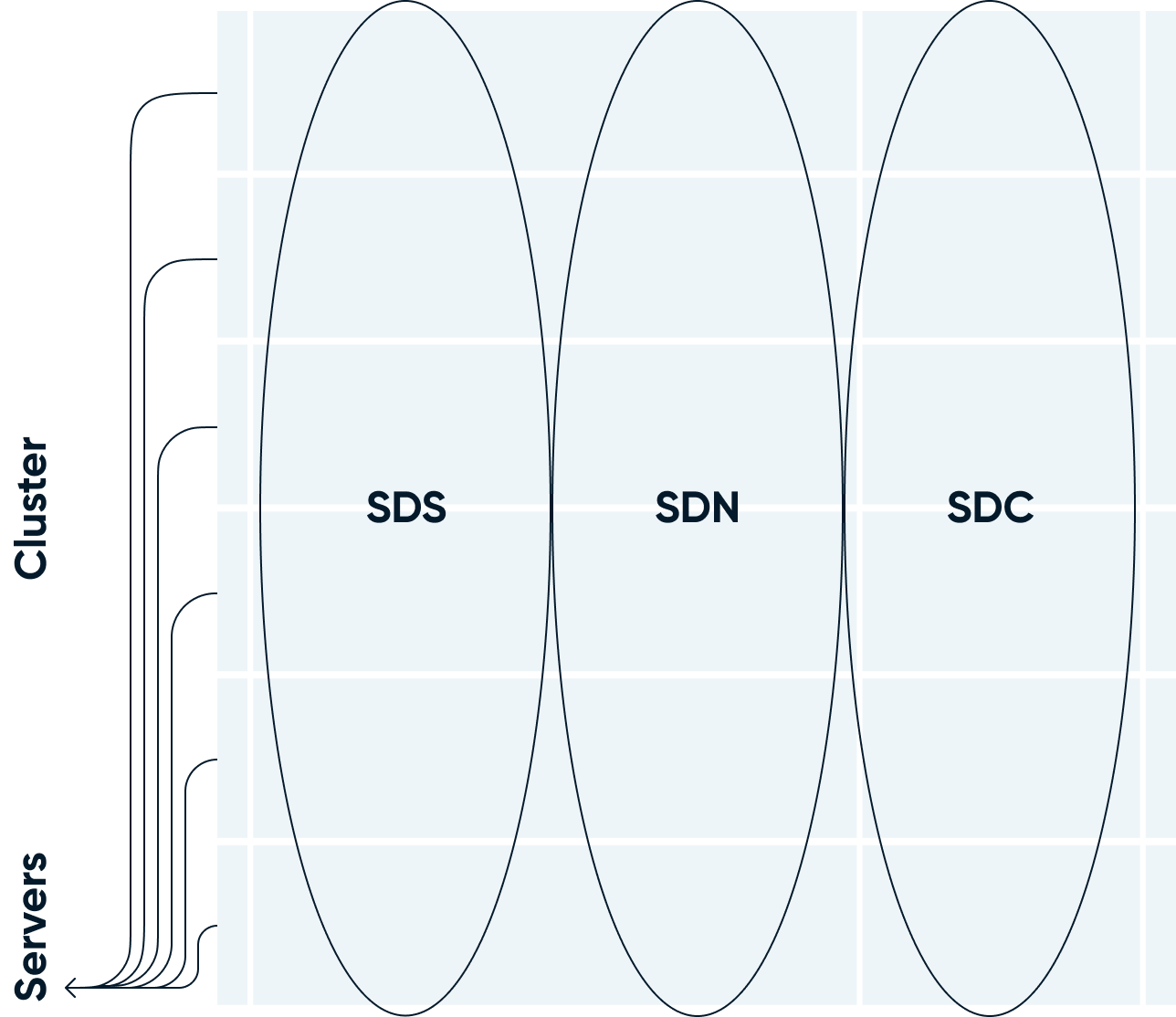 Key advantages
Commodity Hardware
Giving a Сustomer his own say in choosing a manufacturer of server equipment and hardware components. Taking account of significant savings due to the suitability of consumer-grade components as well as savings on hardware – for some tasks, such as creating a test development environment, common markets' SSD drives.
Licensing
vStack offers two licensing modes
Service mode (OPEX) Suggests fees for licenses' use, with monthly billing periods and points* payment scheme.
On-premise (CAPEX) Is licenses' ownership purchasing. One-time payment + an annual fee for support. Overcommit is available in this mode: up to 33% more resources than outlined in the contract can be used.
Performance
It must be noted here that vStack is one of the most highly productive and most scalable HCI platforms on the market, which is able due to the united software-defined modules infrastructure. Moreover, these indicators are achieved without the use of ultra-expensive server hardware.
Synergies of Open Source technologies
VStack is based on open source solutions: FreeBSD, ZFS, bhyve. Unique in itself, together they make a greater effect and have significant advantages in HCI performance, flexibility, and scalability.
Our website uses cookies to improve your experience