About the Platform
FlexPod, a joint product of Cisco and NetApp, is one of the best platforms for building virtual environments, including private and hybrid cloud installations. According to Gartner, FlexPod is one of the top three global leaders in the segment of integrated solutions for data centers.
The efficiency of the platform is ensured through the use of best-in-class servers, storage systems, networking equipment and virtualization technologies. Combined into a single hardware and software stack, these components make FlexPod a convenient, flexible and secure platform that is suitable for all workloads.
FlexPod can be installed in the customer's own data center or in the ITGLOBAL.COM data center. In both cases, ITGLOBAL.COM engineers are ready to administer and support the platform.
Architecture
. FlexPod includes Cisco UCS servers, Cisco Nexus network switches, and NetApp disk storage of various series. FlexPod's modular architecture allows you to quickly scale the platform by adding individual components – for example, when you need to increase performance, storage capacity or cluster size.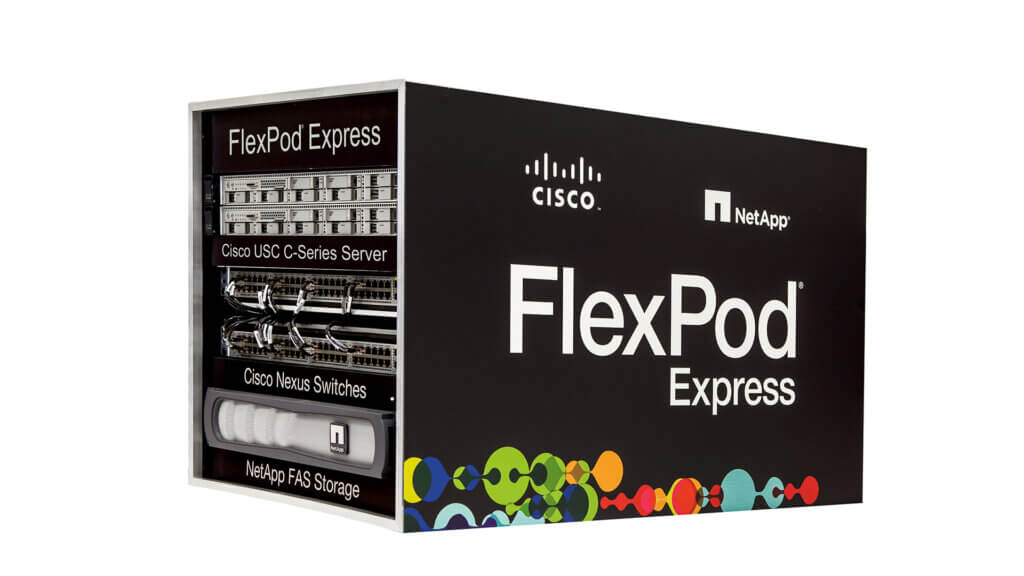 Software
. The FlexPod is compatible with many enterprise software: VMware vSphere, Microsoft Hyper-V, SAP HANA, Oracle, RedHat, Veeam, Docker and others. The platform also supports new software developments from both vendors – Cisco ACI Anywhere for hybrid and multi-cloud management and NetApp FabricPool, which provides improved connectivity between on-premises and cloud storage.
NetApp FAS-серии
NetApp E-серии
NetApp EF-серии
NetApp All-Flash FAS (AFF)
Cisco UCS C-Series
Cisco UCS Mini
Cisco Nexus 3000, 5000, 6000, 7000, 9000
Benefits
Radical Risk Reduction
All FlexPod configuration options are validated. Thus, the risks of architectural errors are reduced to zero. With joint support from NetApp and Cisco, as well as technology partners Microsoft, VMware, Citrix, and Red Hat, you can forget about typical problems at the hardware/software interface.
Performance
. With best-in-class components that work in balanced synergy, FlexPod can handle any workload and keep business applications running at optimal speed.
Scalability
. The platform's rapid deployment and scalability, as well as its high level of automation, allows you to respond quickly to business requirements.
Savings
. With FlexPod, you can consolidate your infrastructure, eliminating outdated and expensive solutions. The platform's flexibility and unlimited scalability reduce the total cost of IT ownership, as well as the financial and time costs of infrastructure modernization.
Universality
. The platform can form the basis of both on-premises and cloud infrastructure. A large set of supported software greatly expands the functionality and use cases of FlexPod.
Ease of Operation
Although modular, FlexPod is managed as a single software-defined infrastructure using an orchestrator. Certified orchestration software vendors include Cisco Cloupia, GALE Technologies, and CA Technologies.
.
Why ITGLOBAL.COM
Expertise
. ITGLOBAL.COM is a long-standing partner of NetApp and Cisco, regularly maintaining certification as a service provider and integrator of both companies' products.
Experience
. ITGLOBAL.COM's cloud infrastructure is built on Cisco servers and NetApp storage, and FlexPod is the main platform on which the Private Cloud service is implemented.
Reliability
. In the off-premise option, equipment is housed in a reliable and secure Tier III data center. Technical support is available 24 hours a day, either by phone, email, or through the self-service portal.
Related Solutions