ITGLOBAL.COM wins Cisco Best Managed Services Partner Award
Being one of the leaders for managed services, ITGLOBAL.COM has once again confirmed the high level of its services and strengthened its expert status.
The topic of managed services has been in high demand in recent years. The main task of such a service is to optimize the management of the customer's IT infrastructure. Managed services ensure the continuity of all IT stages of the business and help businesses grow at the speed the market dictates.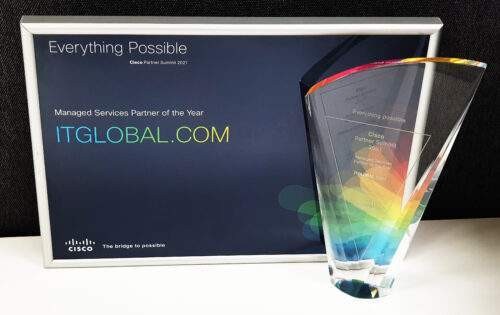 Managed services have several advantages:
Business transfer of non-core tasks and expertise
Transparency of IT costs
High availability of services and security
Delimitation of the areas of responsibility of the provider and the client
SLA (Service Level Agreement)
Ability to quickly expand services
ITGLOBAL.COM has been a certified Cisco Premier Partner since 2008, successfully implementing complex integration projects using Cisco equipment.
About ITGLOBAL.COM
The ITGLOBAL.COM group of companies is an international Managed IT provider with 13 years of experience building and administering cloud infrastructure for clients. ITGLOBAL.COM manages information systems, acts as an integrator, provides information security services, and develops ITSM solutions for automating business processes.