If you want to migrate to the cloud, the first thing you need to decide on is what type of cloud is right for you. You must think this through carefully, because a rash decision can result in wasted investment, missed deadlines, project setbacks, conflicts between you and your provider, and many other problems that can have a negative impact on your business.
There are 4 cloud deployment models:
public cloud,
private cloud,
hybrid cloud,
and multicloud.
The first two models are the most popular and basic ways to deploy Infrastructure as a Service (IaaS), so you probably will have to choose between these two. Hybrid cloud and multicloud are essentially variations and combinations of the first two models.
Examples of public clouds include such hyperscale cloud solutions as Amazon Web Services, Microsoft Azure, and Google Cloud Platform. This category also includes standardized cloud platforms by local cloud providers, where virtual infrastructure is shared by multiple customers (up to thousands per cluster).
In the case of the private cloud, providers use either their own infrastructure or the customer's data center to deploy the customer's systems. This way, only a single customer has access to the infrastructure, which can be customized to their unique needs.
Both public and private clouds have their pros and cons, which you must consider based on your company's business goals, IT development strategy, and financial situation. In this blog post, we will share our tips for choosing the right cloud model for your organization.
The Differences Between Public and Private Cloud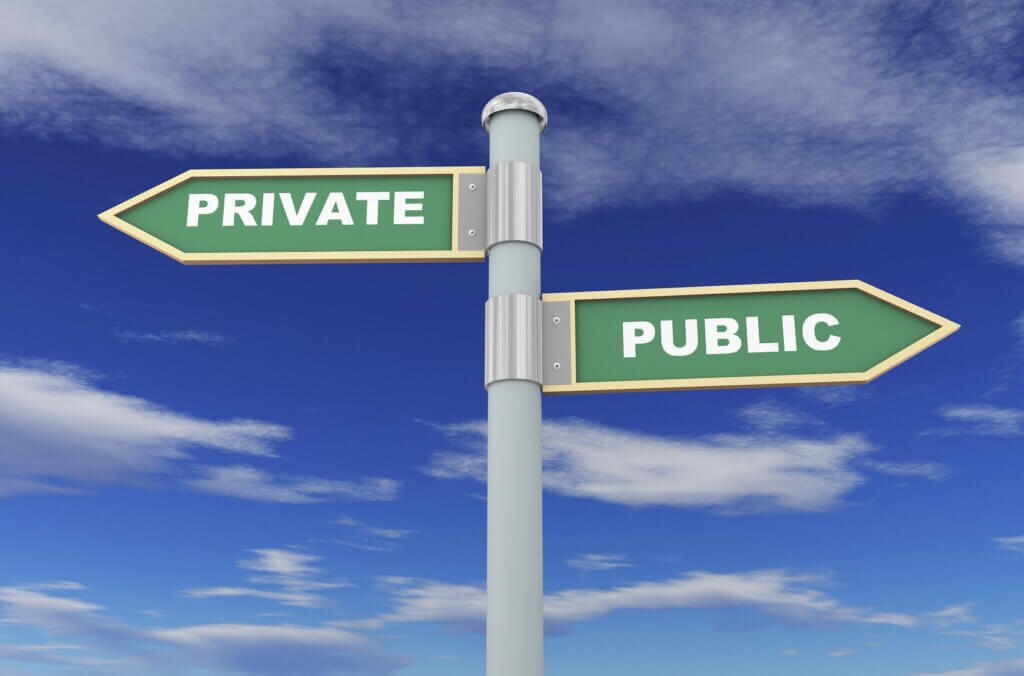 In a public cloud (IaaS), computing resources are shared between multiple customers. In a private cloud, all computing resources are at the disposal of a single customer, providing an isolated environment at both the physical and the software level.
You can think of it like renting a conference room or coworking space versus leasing an office.
In the first case, a business can rent a workspace from time to time — for example, when hiring new employees or to discuss a complex project. However, most of the time the employees work remotely.
In the second case, a business doesn't want to share office space and needs to use it long term, so it's ready to pay more. This way, a company has more options for allocating workspace and designing the office layout. They also get to have a higher level of security and confidentiality.
What Public Clouds are Used For
There's a pretty wide variety of tasks that public clouds are well-suited for. They are often used for developing and testing software, launching corporate database systems and applications, using cloud storage for creating and storing backups, as well as processing big data, running predictive analytics and machine learning.
Public clouds are comparatively cheap, but that doesn't mean that their target audience is limited to SMBs like IT startups, game dev studios, and small online stores. Larger companies can use them as well, migrating corporate services, non-critical infrastructure components, or back-end development environment to the cloud. This lets businesses save money on supporting and upgrading their own infrastructure, as well as on employees who maintain hardware in the corporate data center. They also address the problem of using local resources inefficiently: with a public cloud, the customer only uses, and pays for, as much as they need.
| Pros | Cons |
| --- | --- |
| You only pay for the resources you use | May not be the best choice for critical services deployments because of risk management policies and potential security issues |
| There's no need for capital expenditure or investments in IT development | Standardized infrastructure doesn't account for a company's specifics and might be not suitable for deploying critical systems |
| Your provider takes care of infrastructure administration (you save money on specialists) | Your provider decides which virtualization software and hardware to use |
| Fast deployment | |
What Private Clouds are Used For
For some industries, standardized public cloud solutions don't satisfy business needs and don't comply with industry requirements or external regulations. These companies include many government organizations and enterprises, systemically important banks, research centers, and other customers with high requirements for corporate data processing and storage, business processes, transactions, and, for example, the geographic location of the data center.
The main advantage of the private cloud in comparison to the public cloud is the ability to deal with the customer's specific needs. It provides more options for hardware customization, development tools, middleware, data protection and encryption technologies, and integration with external services. Also, private clouds usually provide better security.
You can choose where to deploy your infrastructure: your own data center or the provider's. You can also delegate infrastructure administration to your provider's specialists, but your company still should have its own administrator or IT department that could communicate with the cloud provider on the same level, and maybe deal with some tasks themselves.
| Pros | Cons |
| --- | --- |
| All physical resources are at the disposal of a single customer | Upfront costs are higher |
| You get better security and a higher degree of confidentiality for your data | In case of smaller workloads, the total cost of ownership is higher |
| There are many options to customize your infrastructure | Scaling takes longer in comparison with public clouds |
| A high level of availability | |
| You can choose where to house the hardware: in your provider's data center or your own server room | |
| You get extended capabilities for integration with external services | |
| You can manage infrastructure yourself or save money by delegating management to your provider | |
Conclusion
If your company prefers an easy-to-use cloud infrastructure, fast service deployment, and a pay-as-you-go pricing model, then public cloud is a better choice for you. For example, it's quite common to use it for testing or development.
But if your company wants customization, security, lower risks and can afford infrastructure development and scaling as the business requirements grow, then consider going for private cloud. For example, many organizations migrate their business-critical systems to private clouds.
In any case, when choosing between cloud deployment models, you need to take the IT strategy of your company into account. And keep in mind that the optimal cloud infrastructure for an enterprise is often a combination of private and public models.