One of the main tasks of an Internet provider is assignation of tariff plans to subscribers. Specific equipment – Broadband Network Gateway (BNG) or Broadband remote access server (BRAS) – is set to do the task. Such equipment allows automation of subscribers' Internet access via application of tariff plans policies and additional options of billing. Let's see how it works.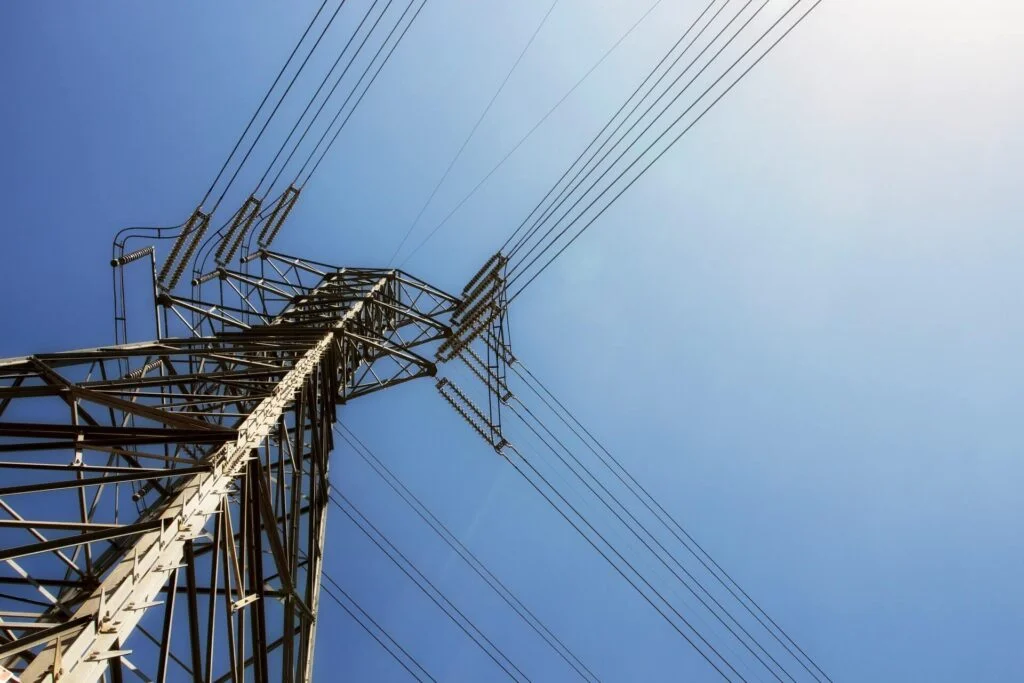 BNG of today
The main reason to imply modifications to an existing data transfer network is the traffic volume increase. Investing into network infrastructure, providers of today consider solutions which will not only expand the broadband capability, but also will make the business more profitable and competitive.
Second important factor is possible unstable operations of an existing BNG equipment. In some cases BNG fails and requires urgent replacement. In other cases BNG lags seriously – while stable gateway operations are business critical.
Next in importance is NAT (Network Address Translation) service implementation. This technology converts private (gray) IP addresses into external (white) ones. Here a provider needs to decide: either to employ NAT as a separate feature or as a part of a BNG solution.
Selecting a specific solution, a provider has to balance what engineers, top management and marketing care about. The former look for simple operations and proper technical support. Top executives consider integrity of investments and vendor reliability. Marketing specialists are eager to receive detailed information on subscribers' behaviour.
Virtual BNG specifics
vBNG is a software-defined product that could be installed onto standard server equipment on x86 architecture. Hardware specifications are defined by vBNG vendors. Hardware can either be purchased from a vendor's partner; or existing equipment – if it fits the specifications – can be used.
vBNG licenses are easily adjustable. It is possible to: make an upgrade with no equipment change; merge two licenses on one device or, alternatively, split them and move between devices. All these manipulations are usually available through technical support.
Virtually all vBNG solutions available on the market are modified (usually highly) Layer-3 OSI model software routers. Their developers (multiple in both the number of solutions and manufacturers) vary from small SW-developers startups to large international telco brands. Yet all such software has the following common features:
x86 platform architecture
Control Plane – *nix OS (Centos, RHEL) or FreeBSD
Data plane – Intel DPDK or PF-Ring ZeroCopy
There are also non-typical vBNG systems – built on DPI (Deep Packet Inspection) systems rather than on Layer-3 routers. Such solutions are L-2 Bridge type. Stingray Service Gateway is the example, combining BNG, DPI, NAT, router, etc. in just one device.
Stingray SG architecture: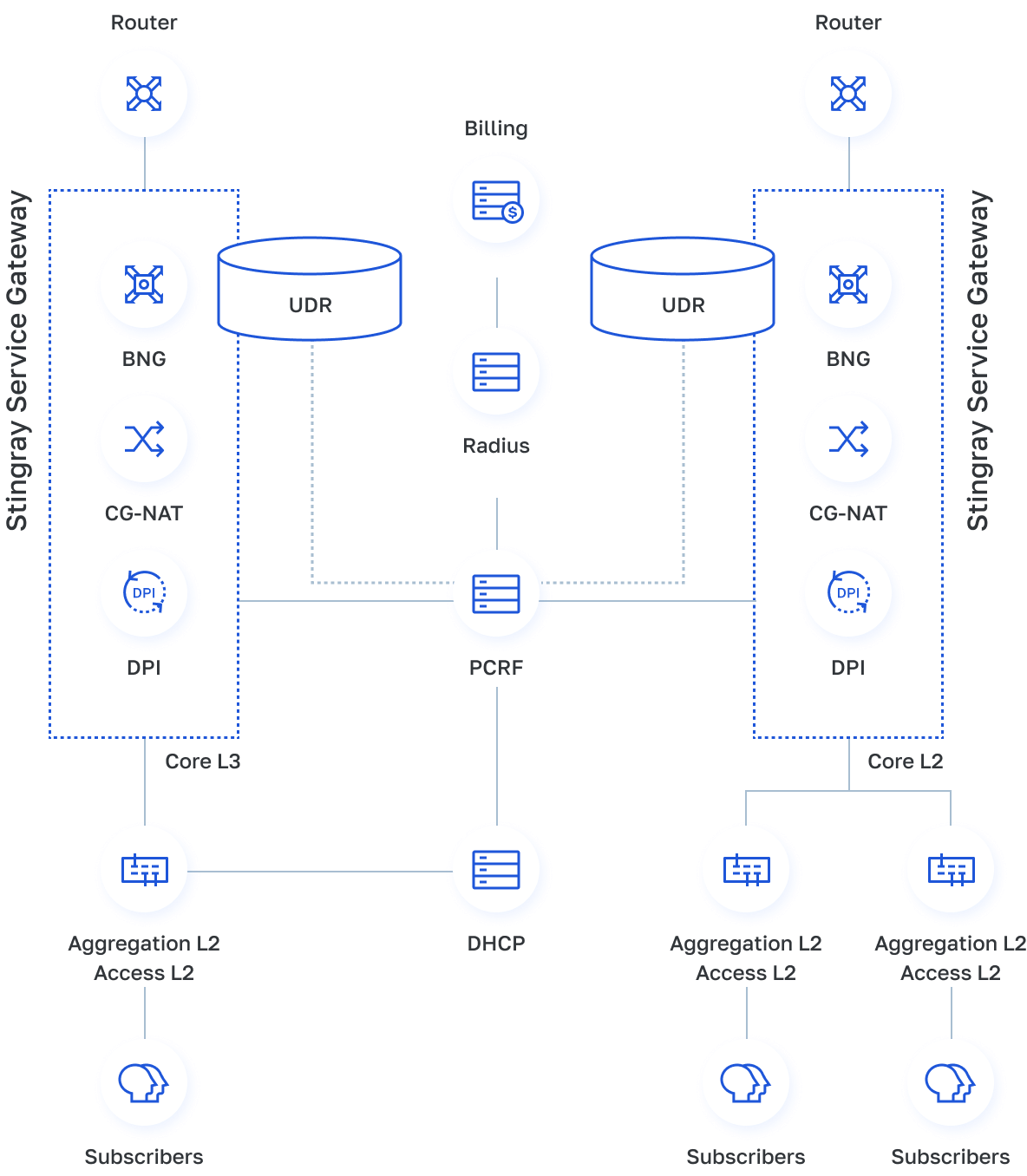 As seen, this scheme implies several BNG for different network segments. Its interesting elements are PCRF-Server (Policy and Charging Rules Function) and UDR (Unified Data Repository).
PCRF-Server provides BNG interaction with a billing system via Radius protocol.
UDR memorizes the last features of a subscriber, providing an opportunity to synchronize several BNG systems. This increases system fault-proof, as well as decreases the load on a billing system database.
Routing for L-2
As a Layer-2 Bridge, Stingray SG possesses routing possibility. Routing support is based on router daemons (background service software) in a separate space of VRF names. It operates the following way:
All VLAN (L2 domains) pass to all Stingray BNG equipment in a provider's network. Stingray BNG can operate in Active-Passive mode, as well as in Active-Active balancing mode. After Stingray SG receives ARP, DHCP or PPPOE packet, it performs authorization and, upon its success, starts subscriber's routing announcing via OSPF/BGP to a Border router. If nat pool is initiated, at the moment of its creation Stingray starts announcing the white subnet information for a router.
Router operates on separate: both threads and CPU core inside the standard x86 server platform. At launch the system applies default thread parameters – that might be modified in the future.
It is worth mentioning that router process adds to hardware RAM memory requirements. Currently the popular BIRD software router is in use. In later updates the vendor plans addition of other daemons: FRR, QUAGGA, Juniper CRPD.
Combination of various functionalities in one hard'n'soft solution allows telecom operator not only perform the tasks from the main group, like BNG, NAT, routing with just one united device. A provider also gets additional opportunities to develop its network with DPI technology. While the transparent redundancy design and the single control point of the entire solution might ease the sysadmin dept. load.
BNG is the crucial element of a telco provider network. Other elements are also important, so, uniting all the functionalities in one device on a unified platform with freeware operating system, one can obtain a solution for an up-to-date telecom operator – that is big for plans and opportunities in business growth.